Phil Vogel, At-Large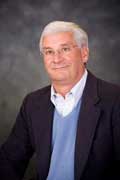 I have resided in White county for over sixty years. For nearly forty years I have been actively involved in the family real estate and auctioneering business, first as an employee and then as co-owner. As a local business man, I recognize the importance of our town to create an environment with a good economy base that promotes business growth and opportunities, increased tourism and provides a great quality of life for our residents. Making Monticello competitive with neighboring and larger towns in our area is crucial in attracting new industry and providing growth and expansion for our community.

Since 2008, I have been involved in our city government first serving on the City Board of Works and now as a member of our City Council, being Councilman-at-large representing all four wards. I have also served as a past president of the White County Board of Realtors, past president of the local Kiwanis club, and on local and state boards for the Indiana Realtors Association and Indiana Auctioneers Association.

Married to my wife Susie for thirty-four years, we have raised three daughters, Dr. Katy Vogel (San Diego, CA), Dr. Kimbre Zahn (Indianapolis, IN) and Kylie Vogel (senior, Purdue University). The Monticello community has been a great place for our family. We value all the opportunities that have been available to us here. I look forward and am committed to continuing my work for the betterment of Monticello.