ADA Business Guide and COVID-19 Released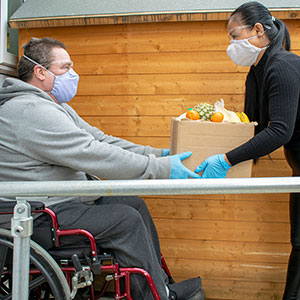 Download the Guide for Businesses: Masks (Face Coverings), COVID-19, and the Americans with Disabilities Act
Due to the ongoing COVID-19 pandemic, the CDC and other reputable, scientific sources strongly recommend that in places where people will come into contact with individuals from outside their own household and social distancing cannot be consistently maintained, individuals should wear masks to prevent the spread of the coronavirus.
Additionally, because confirmed positive cases are on the rise in Indiana, on July 24, 2020, Governor Eric J. Holcomb issued Executive Order 20-37, mandating masks that cover the nose and mouth be worn inside businesses and other indoor spaces in Indiana that are open to the public.
Executive Order 20-37 does provide, in Section 4, subsection c of Executive Order 20-37, that "any person with a medical condition, mental health condition or disability which prevents wearing a face covering" is exempt from the state's mask mandate. However, it is not always readily apparent that a person has a disability, and stores—particularly national chains and smaller businesses in areas where surges are occurring—may have mask policies in place that are more stringent than those detailed in Executive Order 20-37.
The following guide has been created with the goal of clearing up confusion for businesses as they navigate compliance with the mask mandate, protecting themselves, their businesses, their customers and their employees, and applying CDC and Indiana State Department of Health (ISDH) best practices guidelines, all while not running afoul of Title III of the Americans with Disabilities Act.
Learn More - Download the Guide
Stay Informed
When you subscribe to the blog, we will send you an e-mail when there are new updates on the site so you wouldn't miss them.