New Roundabout Construction - April 2023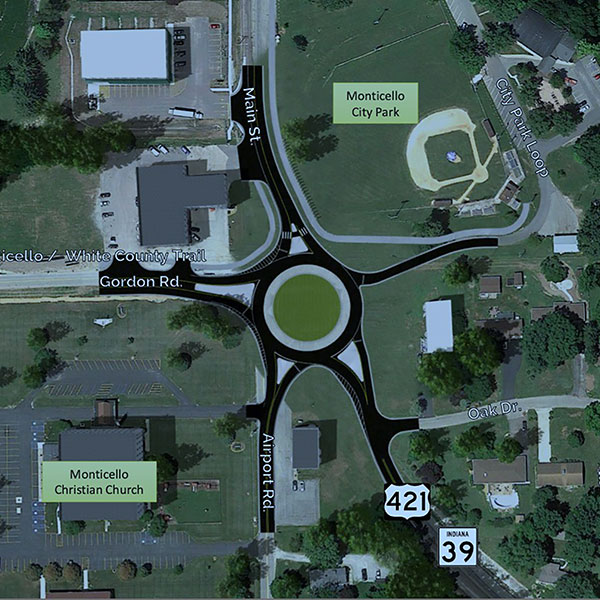 The following is an information summary about County Project #1702835. The project proposes to create a five legged, single-lane roundabout to improve the intersection of SR 39/US 421 and Gordon Road. The roundabout also includes Airport Road, South Main St., and City Park Loop. The project is being funded by the Federal Govt. with an INDOT (Indiana Dept. of Transportation) partnership.
Resources/Information
Project Website

Public Meeting - August 19, 2021 (PPT)
-
Best Pictorial Summary of Project

Public Meeting - August 19, 2021 (PDF)
-
Best Text Summary of Project
- 4 Pages
Preliminary Plan Document (PDF)
Environment Assessment Document (PDF)
Public Comments
Project #1702835 Public Comment Form
Until September 3, 2021, the public is invited to complete and submit a comment form. All comments received via this form (or an electronic mail message or phone call) will be included in the public record and considered during the final design.
Comment forms should be sent to:
Chris Kunkel
c/o Lochmueller Group
3502 Woodview Trace, Suite 150
Indianapolis, IN 46268
Information Added: 20 August 2021 - 2:59PM
By accepting you will be accessing a service provided by a third-party external to https://www.monticelloin.gov/