Monticello City Park
About the Monticello City Park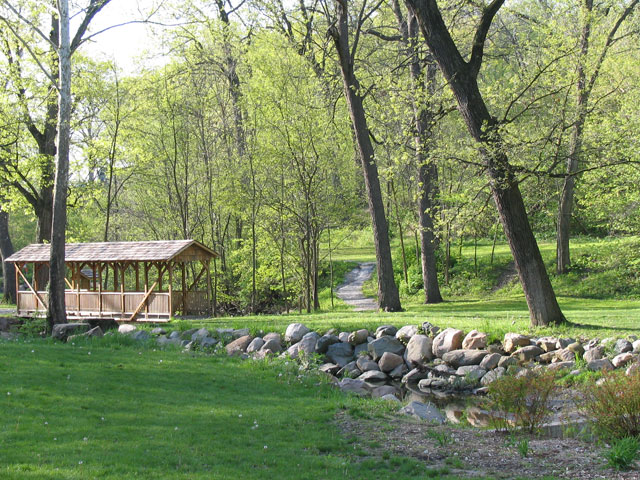 Seven diverse parks totaling approximately fifty-three acres make up the Monticello Park's system. Each park offers many unique settings and opportunities. On South Main Street sits the
City Park
with the historic Anheier Building. The grandfather of the City Parks system, the
City Park
is located on South Main Street. In this park, there is much more than first meets the eye. The
City Park
is unique in that it topographically has two levels. The upper level contains a lighted basketball court, fenced-in play area for tiny tots, baseball diamond and challenging playground equipment. Park benches, swings and picnic tables welcome families to come and stay while the children play. The lower level is a natural area that contains a meandering stream,, walking trails, bridges, and a gazebo. This is a popular place for pictures, weddings, and getting back to nature.
Reservation of the pavilions
are in high demand and very popular with park patrons. Some typical reservations include birthday parties, anniversary, and especially for family reunions. Due to the popularity of this park, many patrons reserve pavilions well in advanced. In addition to pavilions, the
City Park
has an indoor facility option at the Anheier Building.
The History of the Monticello City Park
The first parcel of land acquired for parks development was the property currently known as the Monticello City Park. Land obtained for development of the park was purchased for the sum of ($5,000) from David Lilly and recorded in the White County Recorder's Office on the 16th day of October 1915. The land purchased at that time was larger than the area currently maintained today and included approximately 25.5 acres. When purchased, the City Park originally included the Dodge Camp area and the existing location of the National Guard Armory located at the south end of Bluff Street on Armory Road.
Nine years after these properties had been purchased, a majority of the Tioga property and a small portion of the City Park property at Dodge Camp were sold. This land was conveyed to Indiana H. - E. Power Company for establishment of the Norway and Oakdale Hydroelectric dams and the creation of Lakes Shafer and Freeman. Purchase of property was recorded in the White County Recorder's office on the 17th day of September 1925. The power company purchased a total of 4.71 acres of which about 3.18 acres & 1.53 acres were respectively sold from the Tioga and City Park properties. The power company purchased the land for the sum of ($1,000). Today, the majority of this area is under water. Of the Tioga property originally acquired by the city in 1916, presently .64 acres remains of which .23 acres was abandoned railroad right-of-way.
In 1949 the National Guard Armory found its place in Monticello. The City sold 4.1 acres of the City Park property to the State of Indiana for establishment of the Armory. Conveyance of the property from the City of Monticello to the State was recorded in the office of the White County Recorder on the 20th day of April 1949. The City sold this property to the State for "($1.00) and further considerations". With this transaction, the City Park reached its current size of 19.146 acres.